Johnstone Sports Hub makes its mark
November 7 2012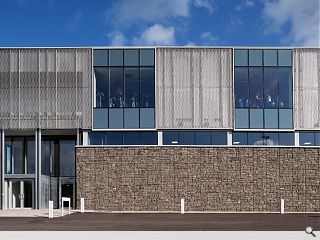 Johnstone's new £6.8m sports hub has opened its doors to residents, housing a range of facilities including a 25m pool, all-weather football pitches, sports courts and a fitness suite.
Designed by Anderson Bell Christie for Renfrewshire Council the facility forms part of Johnstone High School and is available for use by both pupils and the wider community.
Enjoying views out to the surrounding countryside, natural daylight and natural ventilation the scheme was delivered by BAM Construction and is finished in anodised aluminium, extruded mesh and composite cladding.
The architects intent was to create a 'light box' on the hilltop site, enveloped by a gabion wall of reclaimed Victorian road sets in a move intended to extrapolate surrounding paving up the front façade.
It first opened its doors in July.
Johnstone's previous swimming pool
, at Ludovic Square, is currently being demolished to make way for a new civic hub.
Photography by
Keith Hunter
.
Back to November 2012