EDO Architecture stage Ghost of Water Row event
November 6 2012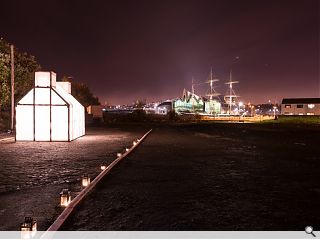 EDO Architecture has staged a Guy Fawkes Night art and history event in Govan to celebrate the pre-Christian and industrial heritage of the area.
Centred on Water Row, the historical heart of Govan and former Clyde ferry crossing the 'ghost' takes the form of a lace pattern, traced onto a flood lit timber home.
Inspired by the Flemish trade the pattern is known as 'Guirandes' and was produced by hand (and later mechanised looming) in the burgh. It remains in production by MYB Textiles in Ayrshire to this day.
In a statement EDO said: "The Ghost of Water Row distils the nature of human habitation that lasted here, till the industrial giant Harland and Wolff arrived.
"Built in pale Scottish spruce – The Ghost is a careful distillation of four buildings that sat to the west of the now buried slipway at Water Row. It is not a direct copy of the Ferry inn or weavers cottages that sat here from 1700-1912 but it says something of them."
The site has been the subject of some controversy following Glasgow City Council's decision to
bulldoze the historic Doomster Hill to make way for a public car park
.
Photography by
Tom Manley
.
Back to November 2012