GMA|Ryder commence construction on Grampian Police facility
November 1 2012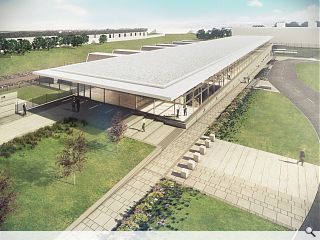 Construction work has begun on a £9.2m integrated policing facility for Grampian Police on the site of a former Scottish Water depot at Kittybrewster, 2km north of Aberdeen city centre.
Designed by GMA | Ryder Architecture the facility will incorporate a custody suite, local policing team, criminal justice office, virtual court and an identity parade room.
Occupying a linear site across two distinct levels the scheme incorporates all secure elements on a lower level clad in pre-cast concrete. Above this will rise a glazed office building facing an entrance plaza and topped by a sedum roof.
Chris Malcolm, Associate at GMA|Ryder in Glasgow said: "The design brings together all the key stages of the criminal justice system in one facility. It responds specifically to the unique opportunities offered by the site topography to create a building which in its transparency, materiality and form is the antithesis of preconceptions about what a custody establishment should look like.
"The new facility will provide all of the city's custody accommodation on one site and at £9.2 million is very cost effective. The new building will act as a physical expression of the ethos of Grampian Police and the new National Police Service of Scotland - accountable, transparent and visionary, stable, secure and enduring."
Occupation is pencilled in for late 2013.
Back to November 2012