McLean Architects detail Airdrie Community Heath Centre
|
Send to friend
October 30 2012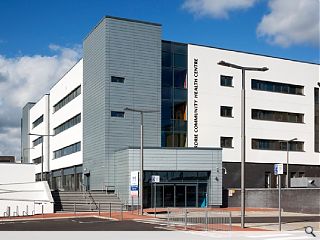 McLean Architects recently completed £13.5m Airdrie Health Centre marries a challenging site with a challenging brief, incorporating a diverse array of services and functions within a singular build adjunct to a congested traffic junction.
The 'one stop' shop health/social work resource centre with street facing retail was commissioned by NHS Lanarkshire and incorporates no fewer than nine GP practices and associated care services within the footprint of a 1970s tower block and former bus station.
Asked whether the new centre makes a wider civic statement Don McLean, managing director of McLean Architects, told Urban Realm: "It was always accepted that to insert a building of this type could have major regenerative impact on Airdrie town centre, and to this end the external works package (though ultimately watered-down) was considered important. This is interesting since the 'lane' which was pre-existing, but widened to make more useable and inviting to retailers, is actually privately owned but treated like a public space.
"Materials selected were to be durable and low in maintenance to satisfy NHS requirements, but also to look established and permanent. The original planning submission utilise a larger palette, including some 'better quality' materials. This was rationalised to the final scheme following input from Architecture & Design Scotland who influenced the more 'monolithic' appearance."
Exterior photography by
Keith Hunter
.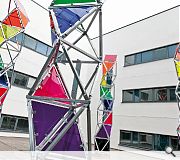 A quirky courtyard artwork injects a splash of colour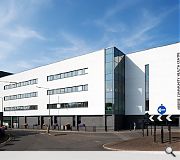 Street facing retail has been incorporated
Back to October 2012