Craigdon Mountain Sports Facility approved
October 11 2012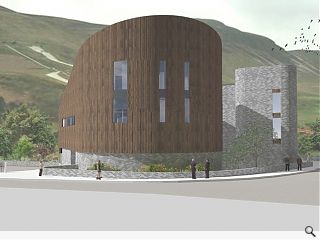 Planning permission has been awarded for a mountain sports hub in the Pentland hills by Edinburgh City Council.
Described as an 'ecological hub' for mountain sports information and equipment supply by Oberlanders, the
Craigdon Mountain Sports Facility
will combine a retail outlet and cafe with facilities for the Pentland Rangers, alongside ski hire facilities and staff accommodation.
This accommodation will be split between a large drum shaped commercial block and adjoining residential block with a basement area providing workshop space.
In form the new build has been oriented and sloped to mirror that of the Hillend ski slope with a fully solar panelled roof and vertically lapped 'Thermowood' timber cladding. A sandstone finish will be applied to a masonry course running around the main building and stair tower of the adjoining residences.
In their design statement Oberlanders state: "The site lends itself to built form at the northern end providing a focal point and visual cohesion with neighbouring houses. The built form, in sloping away from the urban area, naturally draws the eye to the Pentland Hills in the distance."
Work to demolish the existing 1950s Fairmile Inn is expected to commence by year's end with construction work following immediately thereafter.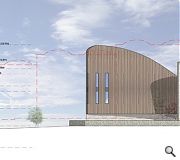 Fairmilehead Community Council have welcomed the plans, which succeed a prior Richard Murphy consent for AMA, with open arms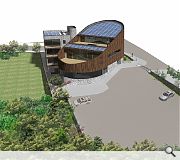 The scheme occupies a key gateway to Edinburgh
Back to October 2012