Carbuncle clash spills onto the airwaves
October 10 2012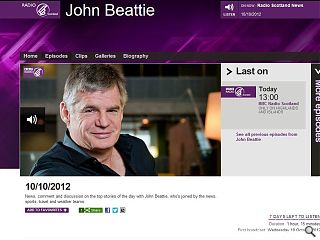 The Carbuncle Awards spilled over onto the airwaves for a spell this afternoon when a heated debate kicked off over the future of Scotland's towns, following
publication of the first nominees in this year's Carbuncle Awards
. They range from Culbokie on the Black Isle, described by Fraser MacKenzie as "a slightly motley collection of generic random housing styles", to Helensburgh, described as "tired and tatty" by Fraser Nelson.
Addressing the wider aims of the award however Urban Realm editor John Glenday outlined the merits of a nomination whilst speaking to John Beattie on BBC Radio Scotland: "It's tongue in cheek but it does have a serious edge to it, these are important issues which need addressing. We've just heard from your contributors about issues ranging from the seemingly trivial, such as peeling paint, through boarded up shops to wider issues such as planning reform and how we tackle our smaller towns in the current economic climate. Our High Streets are in bad shape, businesses are closing down and we need to find new investment and new ways of bringing up our smaller communities.
"I think that's where the Carbuncles can come in, particularly with Urban Realms expertise in the built environment, through architecture and planners, and actually what makes our smaller spaces tick and through our team of experts to assess what's going wrong in some of these places and more importantly identifying what can be done to turn them around."
Kevin Sayer, area services manager with Glenrothes Council, followed saying: "I'm not sure I buy all of that although I think anything that shines a light on progress in town centres isn't necessarily a bad thing. I think disappointed is how we feel locally in Glenrothes, people will know that we won the beautiful Scotland Award earlier this year so we must be doing something right..."
Later Sayer added that winning the award "certainly prompted us to do more", despite it being "negative".
RIAS secretary Neil Baxter adopted a combative tack however, decrying the awards as a "crass PR stunt", before adding that "awards should be about celebrating achievement and positive things and encouraging people to do better. They're not about people parachuting in from grand offices, slagging somebody off and then leaving."
Pointing out that the Carbuncles process does actually entail site visits to the towns with a professional team – often with community buy-in, Glenday cited the example of Denny which actively sought to secure the award. But Baxter, who publishes the rival RIAS Quarterly, interjected: "I don't follow Urban Realm magazine, Urban Realm follows everyone else. So as far as Urban Realm is concerned, it's useful for the litter bin and nothing else."
This prompted Glenday to retort: "I think many would suggest that the RIAS is failing to raise awareness of many of these issues and debate them in public - so it's left to other organisations to do your job."
You can catch the full debate courtesy of
BBC Radio Scotland
from the 20min mark.
Back to October 2012