Campaigners protest against new Scottish Parliament entrance
September 21 2012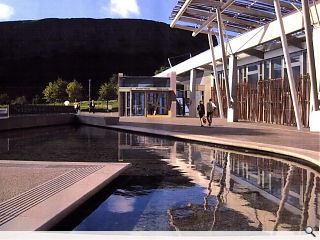 A campaign group formed by a group of former EMBY/RMJM architects to thwart construction of a
security pavilion
at the Scottish Parliament are to stage a protest at the Parliament this Saturday.
Outlining the basis for their opposition to the proposed addition the design team point out that the new facility lies within a roadside blast zone – potentially endangering those queuing up within.
One of these architects, John Kinsley, said: "The proposals destroy the integrity of the original building whilst providing no improvement to the security of the building. The parliament was designed at its inception with highly defined security requirements integrated into the building. These new proposals are ill considered - they will actually increase the risk to parliament visitors."
Designed by Lee Boyd Architects the £6.5m scheme entails construction of a new 'external security facility' through which future visitors to the parliament will be corralled.
The Kenmay granite clad public entrance would be connected to the Parliament by way of a glazed link.
The protest has been timed to coincide with Doors Open Day this Saturday and will see visitors to the Parliament leafleted and asked to sign a petition against the plans.
Back to September 2012