Edinburgh coastal regeneration exhibition to open
September 20 2012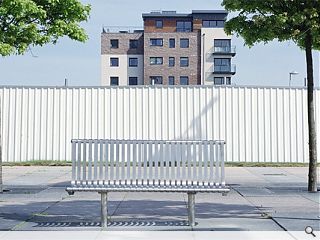 An exhibition documenting Edinburgh's coastal regeneration, documented by photographer Robert Davies, is to be staged at the
Old Ambulance Depot
, 77 Brunswick Street, Edinburgh from 21-25 September.
Development features the port areas of Leith, Granton and Newhaven focusing on the 'wastelands' which now predominate in large parts of each, location for a grandiose Forth ports masterplan from 2000 to transform the area into a 'coastal quarter'.
An initial flurry of development from that time has now long receded and Davies cites a 'lack of political cohesion and vision', as well as the economic downturn, for the malaise.
Davies said: "In this exhibition I have set out to explore the changing edge of a city and in so doing found a coastal landscape in limbo. One of stalled housing developments, dislocated communities – a landscape of unfinished visions, uncertain of its future and disconnected from its past.
"My images explore these spaces – generic isolated housing developments that resemble compounds rather than luxury homes, surrounded by wasteland, they appear to have more in common with the West bank than the Water of Leith.
"Not the 'luxury urban village' or 'place where people and their children want to live, work and play…' as described in the promotional literature. The architecture is utilitarian and uninspiring, the public spaces ineffectual and desolate, cut off from the city they lack any sense of community."
Back to September 2012