Broomlea School housing plan submitted
August 31 2012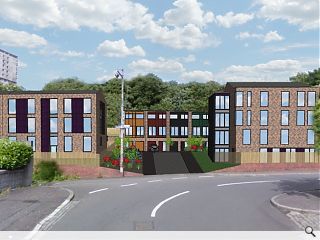 Mast architects have submitted plans to erect 14 townhouses for social rent, 18 flats for mid-market rent and 16 supported accommodation units on the site of the former (unlisted) Broomlea School. Partick.
Built for Partick Housing Association these are oriented to maximise passive solar gain and to create a frontage to Broomhill Lane and formed around a new cul-de-sac on the steeply sloping site.
Each block will adopt the same palette of materials consisting of coloured laminate panels and brick with the townhouses built to passivhaus principle.
Adopting a split level arrangement to reflect the topography the properties have been given a modern appearance with shared spaces and landscaped grounds laid on the relatively flat area of land at the centre.
Private amenity spaces will be provided via rear garden spaces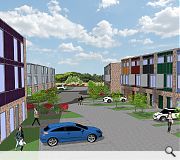 The properties will benefit from strong sustainability credentials and high levels of sound insulation
Back to August 2012