Paisley office block set for student transformation
August 27 2012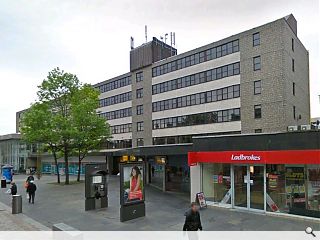 A derelict office block in Paisley is in line for refurbishment after FreshStart Living submitted plans for its conversion to new student accommodation with an end value of £7m.
Gilmour House, owned by NewRiver Retail, is a five storey mid-sixties office block located above the Piazza Shopping Centre. It is being redesigned by Greenock based Canata & Seggie who will subdivide existing office space to form 235 study bedrooms, 196 of which will be en-suites.
FreshStart Living specialise in repurposing redundant and under-valued office stock into affordable homes and student accommodation.
Greg Roberts, acquisitions manager at the firm, told Urban Realm: "Paisley is a great town with a fantastic heritage and we have been very impressed with the proactive support received from Renfrewshire Council.
"Gilmour House benefits from its proximity to the University of West of Scotland's campus and its location in the town centre is a further bonus for students. Easy access to the public transport network, with both train and bus stations next door, makes this a very attractive place."
Tom Johnston, president of Renfrewshire Chamber of Commerce, added: "I'm pleased that, after a number of years on the market, Gilmour House will have a new owner.
"Leaving it vacant is not beneficial to anyone and changing the use of derelict property to benefit the local community provides an efficient way of invigorating town centres."
It is hoped that consent could be granted by the end of October and be ready for occupation in time for the 2013 academic year.
Back to August 2012