MacTaggart & Mickel probe Eaglesham explosion
August 24 2012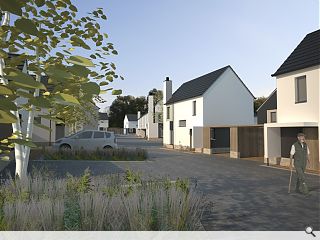 Mactaggart & Mickel have confirmed that an investigation is now underway after residents complained of an explosion at the site of an 'exemplar' Scottish Government backed eco-village.
Contractors had been on the site, which neighbours the 18th century conservation village of Eaglesham, conducting a planned programme of blasting activity.
It is believed this process went awry with rocks and debris raining down on nearby properties.
Ed Monaghan, Chief Executive of Mactaggart & Mickel commented, "Our investigation into yesterday's incident is well underway and I would like to stress again that fortunately there were no injuries.
"We had a team of tradesmen and labourers onsite until darkness last night and they resumed work this morning to effect repairs and clear up debris to the affected properties.
"We are endeavouring to contact personally all affected residents although it would appear that a few individuals may be on holiday.
"A number of residents have requested structural surveys to provide reassurance that their properties have no structural damage and we have instructed specialists to undertake these surveys.
"We are working closely with the Health & Safety Executive and the company who were sub-contracted to undertake the site clearance to establish what went wrong.
"Although neighbouring residents were notified that there would be a period of blasting and that surveys were carried out in advance on over 100 properties, we can now confirm that there will be no further such activity on this site.
"A detailed record is being maintained of damage that has been incurred and everyone can be reassured that we will assist all those affected."
Polnoon will eventually comprise 121 homes designed by Proctor and Matthews Architects with Horner + Maclennan Landscape Architects.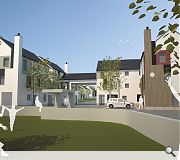 The accident evoked memories of Michael Caine's experience with a 1969 Mini in the Italian Job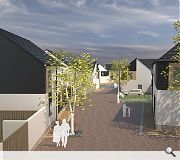 The design is intended to respect the adjacent village and moorland
Back to August 2012