Tenants move into Alyth council housing
August 22 2012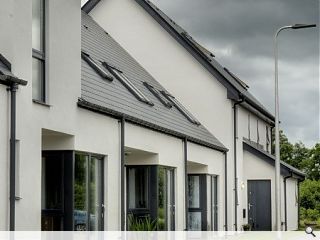 Perth & Kinross Council has taken possession of 19 new council houses in the town of Alyth, the first council housing to be built in the area for a quarter century.
Built by Robertson over a period of 13 months the properties form part of a
wider strategy by the local authority
to erect 120 affordable homes and incorporate a mix of one bed apartments as well as three, four and five bedroom houses.
All homes feature triple glazing, heat recovery ventilation and insulated render as standard.
Martin Smith, Regional Managing Director for Robertson commented: "The tenants who have already begun moving into the homes in Alyth have already remarked on how pleased they with the homes.
"The Alyth site did present some challenges. A stream passed close to the site, which obviously impacts on access and of course the design. To rectify this, a rising main for the drainage was installed, due to the topography of the site and the existing network, which required a civil engineering aspect in connecting the drainage."
Back to August 2012