Edinburgh Centre for Carbon Innovation moves on-site
August 21 2012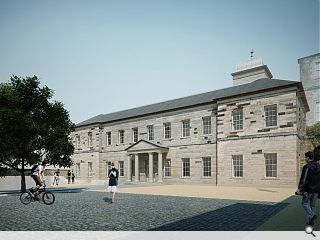 The University of Edinburgh, in partnership with Heriot-Watt University and Edinburgh Napier University, have commenced work on a building which (it is hoped) will become the first BREEAM Outstanding rated refurbishment project in the UK.
Designed by Malcolm Fraser Architects the Edinburgh Centre for Carbon Innovation (ECCI) will act as a hub for the research, development and teaching of climate related challenges and is located within the B listed Old High School building.
To this end the Centre will contain teaching/seminar spaces, lecture/conferencing facilities; meeting rooms; staff offices; a Masters student hub; social space, café and external landscaped courtyard and roof terrace.
New build elements will also aim for a high level of sustainability with a predicted EPC A rating achieved through a focus on passive rather than mechanical systems and an innovative timber frame structure.
Fraser said: "Given the urgency of the fight against climate change we need to understand that the primary issue before us is the joyful and creative adaptation and improvement of our existing building stock.
"But when you look on the BREEAM website you find that all the buildings that have won the top, 'Outstanding' designation are new build, and that most are styled to look like green spaceships, adrift in some distant Business Park-galaxy. So, we like the fact that this radical green building looks exactly like a historic one, set exactly within a historic townscape."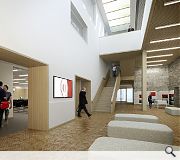 A combined heat and power system provides around 57% of the buildings energy needs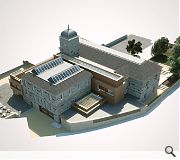 The building fabric is designed to be air tight, incorporating high levels of insulation and recycled timber products
Back to August 2012