Zero Waste partner sought at BRE Innovation Park
August 9 2012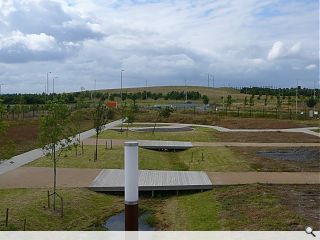 Zero Waste Scotland have initiated a hunt for a house-builder, developer or industry consortium to partner with then on the design and build of a home which showcases the principles of resource efficiency.
This innovative home will be built at the
BRE Innovation Park
to serve as an exemplar for Scotland's house building industry, amidst Zero Waste research suggesting that if all 17,112 new homes built in Scotland last year sent zero waste to landfill this would have saved 85,560 tonnes of construction waste and £4m in remediation costs.
The successful partner(s) will be required to show how resource efficiency measures can be included within the design, construction and deconstruction and how this can contribute to a resource efficient lifestyle for its occupants.
A key goal will also be to convey to visitors the rationale for using certain materials and techniques without a carpet of plaques cluttering the home. Suggestions thus far include using cutaways and QR codes.
To facilitate the development Zero Waste have also undertaken to pay the Park lease and contribute up to a fifth of the construction cost whilst selected build materials and fittings will be made available on a free issue basis.
Iain Gulland, Director of Zero Waste Scotland, said: "In March, we announced that we were looking for a partner to work with us to design and build a resource efficient house, which could be replicated in the industry to reduce construction waste in the long term.
"Applications will open for this in just a few weeks, and I would urge architects, builders and developers to consider applying to be part of this exciting and unique new partnership. The successful applicant will have the opportunity to position themselves as a market-leader in Scotland's future housing development, setting a new standard in sustainability and potentially influencing the next generation of building standards."
Following completion the build will remain in situ at the Park for a minimum of two years before deconstruction and recycling. Its design will also be showcased at the Lighthouse.
Applications can be made at
www.zerowastescotland.org.uk/house
from Friday 17th September, or contact allan.sandilands@zerowastescotland.org.uk for more information.
An information day will be held on August 15 between 10am-1pm at the James Watt Centre in East Kilbride. To book your space email Katy Hunter at hunter@bre.co.uk
Back to August 2012