Speed of Light to kick off Edinburgh International Festival
August 9 2012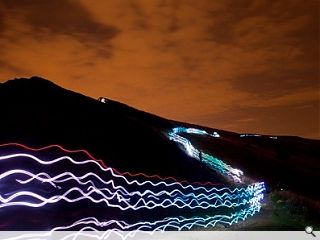 Edinburgh's International Festival kicks off in style tonight with the first first display of NVA's Speed of Light, an outdoor lighting installation which will see 200 runners don hand designed LED suits before jogging to the summit of Arthur's Seat.
These are remotely controlled to emit pulses of light and colour, creating patterns of dancing lights choreographed to music, the combined effect of which presents a bewitching spectacle to those lucky enough to see and hear it.
Angus Farquhar, Creative Director NVA, described the event as an "extraordinary collective visual statement", saying: "Speed of Light is a challenging new work for NVA which will see us collaborating with thousands of runners and new cultural and sporting partnerships across the country.
"Our ambitions with Speed of Light are many and varied - to encourage interaction and participation on a massive scale; to investigate new technologies using light and energy and to challenge peoples' perceptions of themselves and the landscape of Scotland."
Urban Realm will be participating in this year's MagFest,
an exhibition of 40 national and international magazines
, on August 26/27 at Dynamic Earth.
Back to August 2012