Aberdeen live/work units submitted for planning
July 19 2012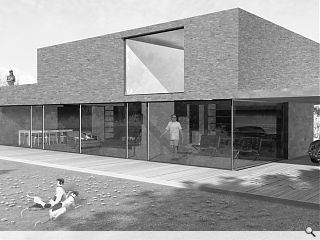 A development of 18 live/work units 10 miles to the north of Aberdeen has been submitted for planning permission by Brown and Brown Architects.
Evolving the often misunderstood concept of a live/work unit beyond the stereotypical office shoehorned into a spare bedroom the architects have striven to create a professional environment in which living and working is conducted on the same site, creating a small business community.
Cited as an inherently sustainable means of living this approach negates the need of daily commutes and cements the notion of community by fostering a better work/life balance.
Their design employs flat roofs to minimise visual impact with stacked granite cladding and sedum roofing. Each distinct work unit has a defined street frontage to the north whilst the southerly aspect is entirely private, comprising a secluded garden area.
Kate Brown, director of Brown + Brown Architects said: "We're very excited to be involved in one of the first true live/work projects in Scotland, although being 'non-standard' the development does bring certain problems, the key one being that currently there is no adequate planning designation for schemes of this type.
"The local community have reacted very positively to the proposals and we see this as an exciting opportunity to create a contemporary settlement for integrated living and working.
"We would like to see development of this type more widespread across Scotland."
Back to July 2012