Luss masterplan consultation launched
July 16 2012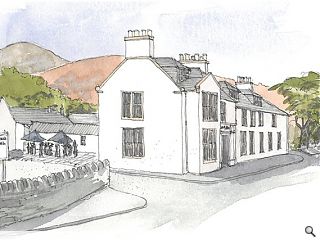 Luss Estates Company is undertaking a public consultation into a a 20 year masterplan for Luss Village, Arrochar, Tarbet and the surrounding area being drawn up by Page & Park Architects and economic development consultants Roger Tym & Partners.
It coincides with a £3m refurbishment of the Loch Lomond Arms Hotel in Luss, which is set to be re-opened by its owner, local clan chief and Luss Estates chair Sir Malcolm Colquhoun, later this month.
Luss Estates Chief Executive Simon Miller said: "This is all about what our communities will look like in 20 years' time, and about how we stimulate economic regeneration and provide job opportunities in order to address the declining, and aging, population.
"Much of the impetus for the process can be traced back to last year when the whole community of Luss stood together against the proposed closure of our village school. That battle was won, but it very much focused our minds collectively on the need to secure the long term future of our communities."
Consultation with local residents is already underway for the plan, which is expected to be completed by the end of the year.
Back to July 2012