'Eye-watering' fall in construction output recorded
July 13 2012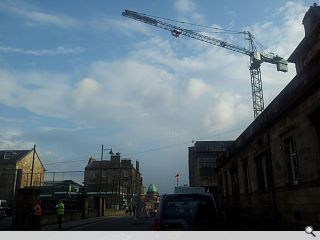 A precipitous decline in UK construction, down 7.4% compared to last year, has been reported by the Office for National Statistics.
In what is proving to be a tale of two sides the public sector has been badly hit with a 23% contraction in new public sector housing over the year with public non housing output off by 20% over the same period.
Private commercial, the largest construction sector, proved to be the one bright spot, growing by 2% versus a year earlier.
Michael Levack, Chief Executive of the Scottish Building Federation, said: "These UK-wide figures paint a truly depressing picture, with a big collapse in overall output and eye-watering declines in new housing and infrastructure work.
"Given the concentration of new construction in London and the South-East at present due to the Olympics, Crossrail and other projects, we can expect that the situation in Scotland may be even worse than these statistics indicate.
"While the Scottish Government's recent announcement of an additional £100million for 'shovel ready' infrastructure projects is very welcome, much more will need to be done – especially at UK level - to provide the stimulus the Scottish construction sector needs if we are to play our part in a sustainable economic recovery."
Noble Francis, Economics Director at the Construction Products Association added: 'Although the coalition has consistently made pronouncements of boosting UK construction and the economy, there is little sign of this in reality.
"If government is serious about recovery in UK construction and the economy, it clearly needs to focus on getting a replacement for PFI sorted out immediately, getting work on the ground now by focusing on repair and maintenance and ensuring that the Green Deal becomes a success by giving householders greater incentives to invest in energy-saving improvements."
Back to July 2012