University of Dundee plans UK's first 'energy autonomous' building
July 3 2012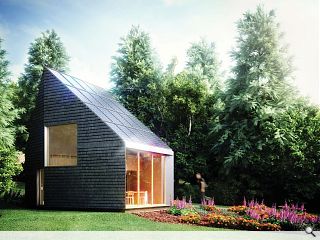 The University of Dundee has announced that it is to undertake to design and build the UK's first 'energy autonomous' building within the city's Botanic Garden.
Designed by students and academics within the university's architecture, renewable energy and engineering departments the studio will ultimately serve as a workspace and exemplar for the construction industry.
Project leader Joseph Thurrott of Dundee's School of Architecture said: "The project is designed to give students experience of designing and building a full-size, cutting-edge, ultra-low energy building which will provide new solutions to future problems that have broad relevance across the building industry.
Thurrott's colleague, Dr Neil Burford, added: "These are all issues which have major implications for the future of the construction industry in Scotland, which has to respond to new legislation relating to sustainability and energy efficiency.
"This project will demonstrate the innovative design solutions, manufacturing processes and sustainable resources that can be used to meet the future challenges facing the construction and housing sectors.
"One example of that is the use of Scottish timber resources, as opposed to importing these from places like Canada and Scandinavia. We have been working with the Wood Studio at Napier University and with the Forestry Commission on how we can make good use of sustainable Scottish solutions."
A public exhibition of the plans will be held in Dundee House from July 5 and progress can be followed via the projects
dedicated blog
.
Back to July 2012