National Grid produces scale models of Bystrup's T-Pylon
June 28 2012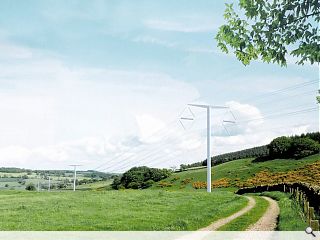 The National Grid has produced a 1:50 scale model of
Bystrup's competition winning design for a new breed of electricity pylon
– the first overhaul of the pervasive structures since they first marched across the countryside in the 1920s.
The utility firm is currently conducting rigorous testing of the Danish engineers design to ensure it can withstand the vagaries of the British climate and technical failures.
Dubbed the 'T-Pylon' for its basic silhouette the Bystrup design is regarded as mechanically strong whilst the 'diamond earrings' which hold the wires in place allow sufficient flex to withstand gale force winds.
The first working pylons aren't expected to enter service until 2015.
Back to June 2012