Gareth Hoskins Architects complete Selkirk forest shelter
June 20 2012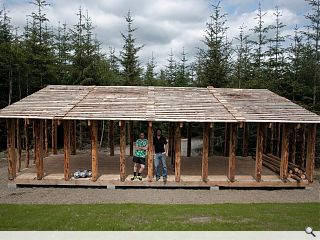 Gareth Hoskins Architects and Caledonia Log Homes Ltd have unveiled a custom built log shelter at a specially designed football pitch in a Selkirk forest – part of the UK wide Cultural Olympiad.
The unusual commission has been cut from native Douglas Firs from the surrounding woodland and will provide a changing area and viewing platform for spectators at two specially matches between teams composed of new immigrants to Scotland.
Post event white lines painted on the forest floor to delineate the pitch will be planted over with native trees to act as a living sculpture, creating what ought be an evocative sight for future ramblers.
The shelter itself will act as a viewing platform for walkers to observe nature at work and may eventually house interpretation panels to inform visitors of the rationale behind the installations creation.
Gareth Hoskin's Donald Simpson, architect of the scheme, said: "Something imaginative like this was right up our street – it's such an interesting project. The idea of a pristine football pitch in the middle of a forest was just so unusual, so we really wanted to get involved.
"The idea was to create a structure using wedge shapes like the stand at Gala Fairydean, but using untreated natural wood – so in that way it is a complete contrast. There has also been a real emphasis on using locally sourced wood, including trees that were brought down by the recent storms. And it's very unusual because of the way that it uses wood which is very much in its raw state."
Forest Pitch is the brainchild of Edinburgh based artist Craig Coulthard who aims to harness the installation to explore the nature of contemporary Scottish culture and identity.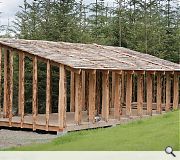 Forest Pitch is intended to impart some Olympic spirit to the Scottish Borders
Back to June 2012