Contract award brings Falkirk's Kelpies a step closer
May 30 2012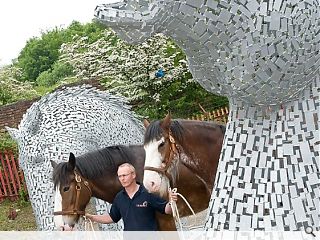 A £5m contract to build twin 30m tall equine heads in Falkirk, part of the £41m Helix Project, has been awarded to SH Structures following a competitive tender.
Commissioned by the Helix Trust, the elaborate Andy Scott designed stainless steel plated sculptures will form the heart of a 350 hectare regeneration site between Falkirk and Grangemouth.
This will entail installation of more than six km of structural steel incorporating 10,000 special fixings to secure the 'skin' of the heads.
Tim Burton, sales and marketing manager of SH Structures, said: "Projects of this nature and scale are rare and provide a significant opportunity to be involved in delivering a lasting legacy that will instil a great sense of pride for everyone involved."
Andy Scott added: "The heavy horse played a hugely influential role in the progress of modern society. They were the powerhouse of the early industrial revolution, the tractors of early agriculture and, of course, the first source of locomotion for barges on the very canal, which The Kelpies will inhabit.
"I see The Kelpies as a personification of that history, of the lost industries of Scotland, but I also see them as a symbol of modern Scotland - proud and majestic."
Back to May 2012