Historic Scotland block Perth City Hall demolition
May 9 2012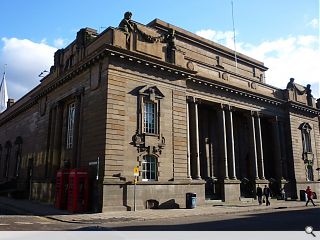 Historic Scotland has announced that it has refused to grant permission to Perth and Kinross Council to demolish the B listed Perth City Hall.
In a statement the heritage organisation said: "Any application to demolish a listed building is scrutinised against the Scottish Historic Environment Policy. The policy states that no listed building should be demolished unless it has been clearly demonstrated that every effort has been made to retain it.
"As part of this policy, applicants must demonstrate that they have made a case for demolition against one of four tests. It is our belief, on the evidence presented by Perth and Kinross Council, that they have not made the case for demolition and that the alternatives have not been fully explored.
"We have advised Perth and Kinross council of the decision and would be happy to offer advice on next steps."
Historic Scotland,
which has been considering the proposals since November 2011
, applies four tests to demolition requests in order to ascertain whether demolition is appropriate. These are:
the building is not of special interest; or
the building is incapable of repair; or
the demolition of the building is essential to delivering significant benefits to economic growth or the wider community; or
the repair of the building is not economically viable and that it has been marketed at a price reflecting its location and condition to potential restoring purchasers for a reasonable period.
Back to May 2012