Trump urges Scottish Government to "kill" Aberdeenshire wind farm
April 25 2012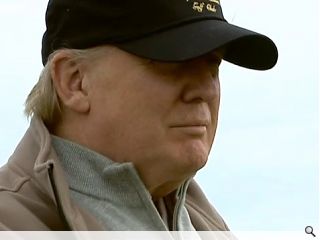 Outspoken tycoon Donald Trump has said his plans to erect a
hotel
and hundreds of homes next to his Menie golf course are on hold unless the Scottish Government "kills" plans to erect
11 turbines
off the Aberdeenshire coastline.
Trump explained: "As soon as the windfarm idea is killed, we'll start phase two."
If it does go ahead Trump was much less clear cut, stating merely said that he would "have to make a determination at some time." He added "this is a much bigger project in total than the wind farms and if they do it and they destroy Scotland, they will have committed a terrible error."
Reacting to the news local resident David Milne, who has campaigned against the golf resort, said: "It's just an example of arrogant and selfish inconsistency. He has destroyed an area of outstanding natural beauty, a site of special scientific interest and now he's arguing about something that's a mile away and which will be barely visible."
Giving evidence to the Scottish Parliament Trump said he was "lured" into building the resort after being given assurances from the former and present First ministers, Jack McConnell and Alex Salmond that the offshore wind farm would not proceed.
Both deny the accusations.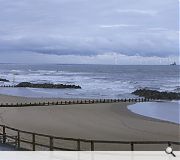 Proponents argue that the visual impact of the windfarm will be minimal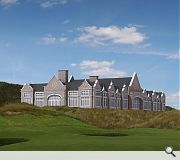 Take your pic: Aberdeen could be spared this clubhouse if the windfarm goes ahead
Back to April 2012