Tesco to begin demolition of Linwood town centre
April 24 2012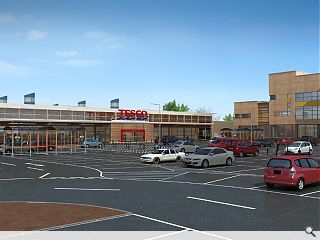 Tesco are set to fire the starting gun on their delayed redevelopment proposal for Linwood town centre after confirming that contractors are now on site preparing the ground for its imminent demolition.
Recipient of Urban Realm's
Carbuncle award
, the dilapidated seventies shopping mall has been held up as Scotland's most dismal with locals almost having given up hope that demolition would ever take place.
Tesco plan to erect an 8,100m2 superstore, shop units, a community centre, library and offices on the site.
Doug Wilson, Corporate Affairs Manager for Tesco commented: "We are delighted to be moving forward with one of our most ambitious projects in Scotland - which will bring substantial regeneration, hundreds of new local jobs and multi-million pound investment to Linwood town centre.
"Linwood is one of our most complex and challenging town centre projects and we are really pleased to be moving to the next stages of this development. We will continue to update the community on our progress and we are sure that the new store and community facilities will be great asset to the area."
The store has been designed by Manson Architects.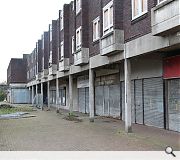 Locals had nearly given up hope that any demolition would ever take place
Tesco are now securing the dangerous site
Back to April 2012