Residents find stilted supermarket uplifting
April 23 2012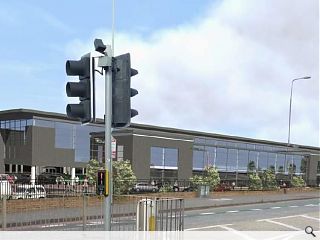 A Sainsbury's supermarket on stilts designed by GWH has been given the green light by planners, a decision which has (unusually) been welcomed by a local residents.
Located on Edinburgh's Inglis Green Road the
60,000sq/ft supermarket
will harbour 385 car parking spaces below, on the site of a derelict B&Q store which has become a target for firebugs - prompting 500 residents to sign a petition in favour of the development.
Former architect and Longstone Community Council planning member Steuart Campbell, told the Edinburgh Evening News: "It is pretty unusual for a community to be so supportive of a super- market development, and I would say part of that is down to the problems of this derelict site being left vacant.
"The offering here for shopping isn't great and this would be a significant improvement."
Site clearance is timetabled to commence this May.
Back to April 2012