Kilmarnock car park shows its true colours
April 18 2012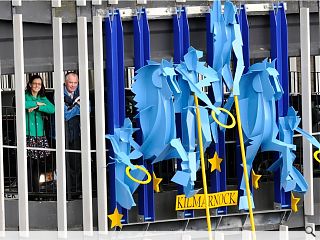 A monotone Kilmarnock car park has been given a three tonal makeover after it won a
Brighten Scotland competition
to spruce up the country's most dour spaces, which Urban Realm helped judge.
Foregate car park emerged as the unanimous winner of this hunt - resulting in its steel artwork, originally created by Jack F. Sloane back in the 1990s, being carted off to Highland Galvanizers Cumbernauld base for its colourful re-vamp
Previously the piece had sat largely unnoticed perfectly camouflaged as it was against a grey backdrop. Now it stands out as an eye-catching work in its own right to users of the neighbouring bus station and shopping centre.
Geoff Crowley, Managing Director of Highland, said: "This is exactly the kind of impression we hoped Brighten Scotland would make – there's no need for towns to be grey and dreary, especially when we so often have weather to match.
"A bit of colour can make a real difference to our surroundings and when the process means no maintenance is required to keep structures looking bright and corrosion free, it should be a no-brainer really."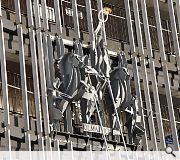 Many locals probably never even saw the artwork despite walking underneath it for 20 years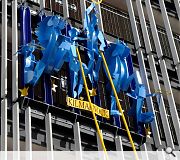 The artwork has been given a jaunty yellow and blue update
Back to April 2012