Hypostyle submit Strathclyde University refurb plans
April 16 2012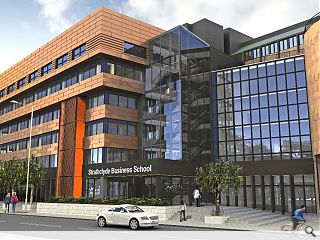 Hypostyle have applied for planning permission for the refurbishment of Strathclyde University's Stenhouse Building - entailing the addition of a new stairwell and lecture theatre.
Extensive landscaping to the Cathedral Street frontage will involve recladding of the existing brutalist structure to marry with a later extension to the immediate west.
This will entail overcladding the existing concrete with a terracotta rainscreen and brass shingle cladding system.
A huge wall blocking the building off from Cathedral Street will be dismantled and replaced by a series of granite box planters and a proposed 'cloister wall' to improve interaction with the street.
The development is the latest in a series of planned estates developments by the University of Strathclyde in the area, following completion of Sheppard Robson's
Biomedical
facility.
It lies directly opposite Atkkins planned 'supercampus'.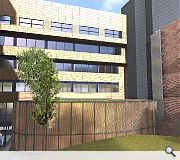 A new lecture theatre will be added to the rear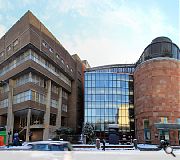 The brutalist structure will be given a friendlier demeanour
Back to April 2012