Musselburgh Primary Care Centre completes
April 12 2012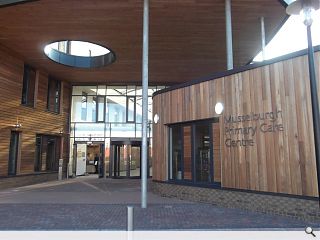 A one stop shop for East Lothian patients requiring GP services and a full range of outpatient clinics for adults and children has completed in Musselburgh.
Designed by JM Architects the 6,312sq/m centre sports a 'space age' roof and generates around 10% of its own electricity through a combined heat and power plant.
David Small, General Manager, East Lothian CHP, said: "The roof has been specially designed from technology originally developed by NASA. It's held up by compressed air and is self cleaning. The building also has an eco-friendly sedum roof which will attract different types of wildlife onto the site.
"Each room in the building, apart from the storage cupboards, have windows which can be opened reducing the need for air conditioning systems while the building has an under floor heating system saving on space."
Dawn Construction acted as main contractor on the project which is expected to be fully open to all patients by the middle of May.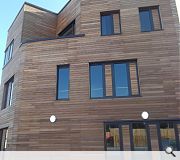 An internal glazed street bisects the building and courtyard gardens ensure that each room enjoys natural light and views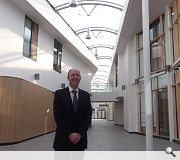 Small poses in the clinics central atrium
Back to April 2012