Ben Arthur Resort consultation launched
April 11 2012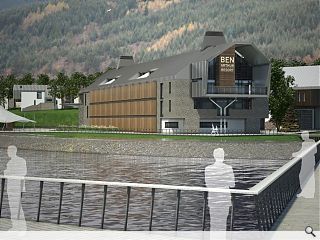 Archial have revealed indicative plans for the transformation of a former torpedo base near Arrochar, subject of a report in the current issue of Urban Realm, into a £35m marine destination.
Located at the head of Loch Long in the Loch Lomond & The Trossachs National Park the Ben Arthur Resort would accommodate a 130 bed five star hotel, 52 homes, a chandlery (sailing shop), helipad and marina.
Kevin Cooper, Director in Archial's Glasgow office told Urban Realm said the scheme has progressed from being a "nice idea" to something that "we're confident will happen" over the past nine months. This followed publication of a brochure to generate interest on behalf of the client as Cooper noted: "This is an example of what a lot of us in the profession are having to do, try and make something happen."
Two house types will be implemented based on the characteristics of the site. The tower house at the eastern end of the site responding to the height differential between road and loch with shorter homes to be built in the west where topography is less extreme.
Cooper added: "It is still very much an early stage in the process. Our client has a hotel and marina operator on board, and the initial response from planning has been very positive.
"The project has great potential, a unique setting and a wonderful location. It offers a rare opportunity to develop a high quality resort, on a challenging and interesting site, creating a series of contemporary yet sensitively designed buildings, the forms of which are derived from the vernacular, yet modern in their expression."
The scheme has been well received by planners in their initial response but will now be subject to further refinement in consultation with stakeholders pending a full planning application.
A
public consultation
will be held at the Three Villages Hall, Arrochar, on Wed April 18 with a detailed planning application to follow by August.
Completion is anticipated by around 2015.
Back to April 2012