Nicoll Russell Studios appointed to deliver Kelpies visitor centre
March 22 2012
Nicoll Russell Studios have won a
£1m competition
to deliver a new visitor centre as part of the wider £41m Helix project near Falkirk.
The commission will entail creation of an internal public space within a 30m high Kelpie designed by sculptor Andy Scott, and an adjoining visitor pavilion.
Andy Baxter, a partner at Nicoll Russell Studios, said: "Winning this design competition against an international field is a superb accolade and we are delighted with the outcome. It reinforces the profile of our practice, continuing a string of success across the UK and we are looking forward to seeing the designs move from the drawing board into reality."
Mike King, programme director for the Helix Project, said: "Nicoll Russell Studios' designs are dynamic and engaging and showed a clear understanding of the requirements of the brief, set against the backdrop of the wider project objectives.
"The Helix is amongst the most exciting transformation programmes under way in the UK right now and one of our key aims is to create a unique multi-visitor experience that will firmly establish the project as a 'must see' destination on the national and international tourism map."
The Helix Project consists of 300 hectares of underused land between Falkirk and Grangemouth composed of woodland, a lagoon and parkland all interconnected via canals, walkways and cyclepaths.
It is being funded by Falkirk Council, British Waterways, Central Scotland Forest Trust and the Big Lottery Fund.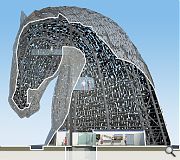 Nicoll Russell won out after judges were swayed by their use of 'light, space and strength of visual elements'
Back to March 2012