North Lanarkshire News under fire for 'omitting' Cumbernauld town centre
March 7 2012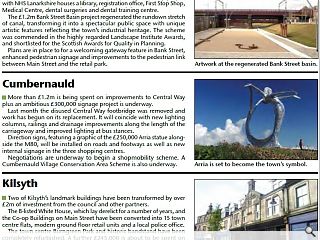 Serial
Carbuncle offender
Cumbernauld has suffered the ignominy of being edited out of its own regional newspaper, the North Lanarkshire News, after it was apparently deemed to grisly to show.
The February edition of the paper
, a council funded booster for the region, had published a feature detailing the condition of all town centres within the local authority area, cataloguing investments in Wishaw, Airdrie, Bellshill, Coatbridge, Cumbernauld, Kilsyth and Motherwell.
These were illustrated with a handy image of each, except poor Cumbernauld whose concrete charms were supplanted by a depiction of Andy Scott's controversial 'Aria' sculpture – located on a dual carriageway on the outskirts of town. Sparking concern in some quarters that the council is "too embarrassed" to show a picture of the New Town.
Explaining the choice of image Stephen Penman, head of corporate communications at North Lanarkshire Council, said: "Given that the editorial in relation to Cumbernauld referred to the substantial new street signage which features Arria it was clearly appropriate to use the image of Arria."
Responding to this however Councillor Alan O'Brien, an independent representative for Cumbernauld North, said: "Your point on Arria being "clearly appropriate" is verging on insulting, no scratch "verging" it is insulting to the people I was elected to represent.
"Every other NLC town centre featured pictures of the improvements that have been made by the council. You choose to omit our town centre because there have been no improvements for you to photograph and there is no presentable area for you to photograph. Couldn't you have used those nice green and yellow wing things NLC wasted a million pounds on?
"This in itself is disturbing enough, but to choose to use an image of a project which was specifically designed to divert attention from our town centre's plight is truly rubbing salt into our wounds."
Back to March 2012