Holmes Miller complete Kilmacolm's Cargill Centre
February 27 2012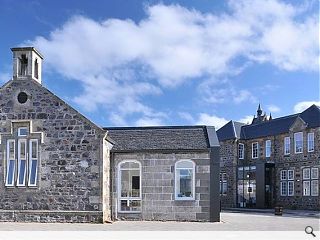 Holmes Miller has completed work on a new community centre, medical centre, café, halls and library in Kilmacolm, Inverclyde.
The Cargill Centre occupies two existing former primary school buildings at the heart of the conservation village, one of which was C listed, which have been transformed into bright and modern accommodation.
Bankrolled by the WA Cargill Fund the £2m scheme was driven by the Kilmacolm New Community Centre Company (KNCC) who selected Holmes Miller's competition winning design.
This has seen the larger of the two buildings opened up to create flexible accommodation on three levels around an internal street whilst the ground floor has been dropped to meet the grade level of external ground levels.
A smaller C listed school board building has been given over to a new public library which incorporates a new shop window punched through an existing gable to engage directly with the street.
Wider public realm improvements have seen the village centre opened up with improved public access and a new village square for outdoor community use.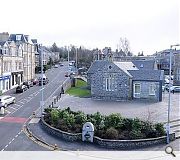 It is hoped that a new cafe will act as a central meeting space for villagers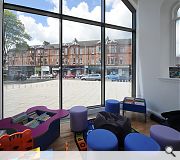 Repair of the exteriors belies completely new interiors
Back to February 2012