Squiggly bridge poised for final approval
December 7 2006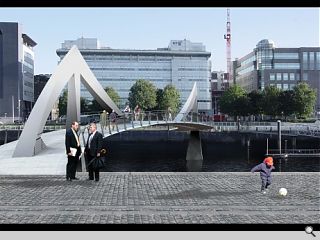 Glasgow City Council has reconsidered plans for the Tradeston Bridge Mk II, nine months after the original plans were aborted due to spiralling costs.
Dubbed the Squiggly Bridge, the proposed design by Dissing and Weitling will link the financial services district with the south bank of the Clyde, with total costs just under £28 million.
The executive member for development and regeneration, Hanzala Malik, described the designs as "outstanding" and value for money.
If approved, construction will be due for completion in May 2008.
Back to December 2006