Waverley Steps refurbishment completes
January 27 2012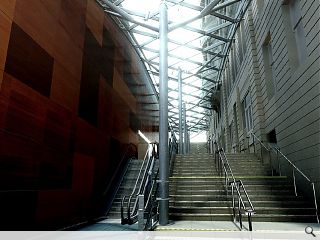 Refurbishment works to one of the principal entrances to Waverley Station are to be completed this weekend, paving the way for a more comfortable pedestrian connection to Waverley Station.
For 145 years some 14,000 people a day have huffed and puffed their way up the 72 steps to reach Princes Street but from Monday they will be able to glide effortlessly up thanks to the installation of a bank of escalators.
Network Rail's £7m refurbishment project has seen Morgan Sindall install a glazed canopy installed above the stairwell, held aloft by six sculptural pillars, sheltering three banks of double escalators to whisk folk up and down the 40ft climb.
This remodeling work has seen Jefferson Sheard Architects narrow the stairs to just half their original width with eight shorter flights of stairs replacing the original five. A central handrail has also been added for those determined to continue making the ascent.
In their design statement Jefferson Sheard said: "We have to carefully balance the history and the historic appeal of the station's architecture with contemporary needs and modern design. The result is a structure with presence and appeal, but a 'light-touch', not competing with the grand sandstone buildings that surround it."
A partial opening of the stairs as far as the Princes Mall will take place on Saturday, ahead of a full unveiling on Monday.
Two 16 passenger lifts will also be installed once following the opening, scheduled to open by July 2012.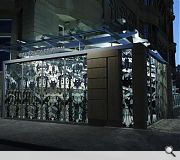 Central columns aim to split the flow of passengers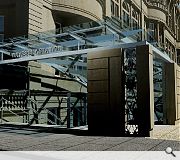 The new entrance will improve access for disabled users
Back to January 2012