Central Scotland High-speed rail terminus floated
January 21 2012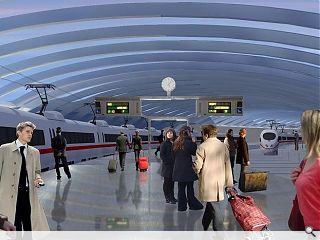 Plans to build a high speed rail line connecting London with the UK's principal cities has sparked a debate in Scotland as to where to build the northern terminus of the line.
Uo till now it had been envisaged that a station would be built in both Glasgow and Edinburgh to serve both east and west coasts but now a fresh concept is being floated, that of a Central Scotland "hub".
The bold idea is being actively discussed as minsters realise that both Glasgow Central and Edinburgh Waverley offer scant opportunity for expansion.
Infrastructure Secretary Alex Neil said: "What some transport experts are suggesting is that it would be beneficial to have some kind of central Scotland terminus, as it were, because from there you could go north, you could go west, you could go east, you could go to places south of Scotland."
At present Glasgow's
High Street
and Edinburgh's Haymarket are the favoured locations for the huge new stations.
Back to January 2012