Greenock street mural given fresh lease of life
January 18 2012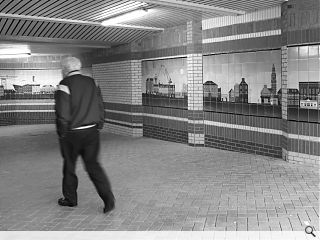 A 1970's mural depicting life in Greenock has been rescued from oblivion by 6274 Public Art following the intervention of Riverside Inverclyde.
The painted tiles showcase a Greenock street scene in the days prior to construction of the town's Oak Mall, giving pedestrians something pretty to look at (and a history lesson) as they traverse a series of previously grotty underpasses.
A painstaking restoration process has seen each individual tile repaired and expunged of graffiti prior to being repainted to match the period look as closely as possible.
Rather than opt for a slavish recreation of the past however the designers have opted to chuck in a few modern representatives of contemporary Greenock; including references to the Tall Ships Festival and Beacon Theatre.
Andy Nicol from 6274 said: "We really wanted to do the original mural justice. It was a very popular part of the town which local people thought had been lost. We were delighted to be part of the restoration project and we hope the public enjoy having it back… With a few new additions, of course."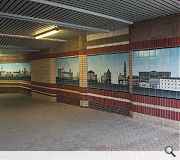 The refreshed piece has rekindled memories in long term residents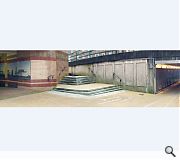 This grim thoroughfare has been given a much needed splash of colour
Back to January 2012