Diller Scofidio & Renfro win Aberdeen gardens comp
January 16 2012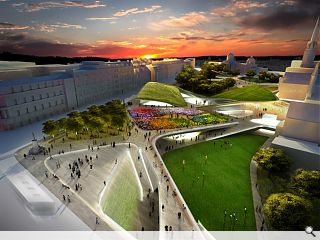 American practice Diller Scofidio & Renfro, in collaboration with Keppie Design and Olin Studio, have seen off Foster and Partners to win a commission to radically overhaul Aberdeen's Union Terrace Gardens.
The project, if built, will provide the city with an additional
70,000sq/f of green space across eight distinct garden areas
, including an arts and culture centre and café.
Explaining their selection jury chairman Sir Duncan Rice said judges had been "overwhelmed" by the "thrilling concept".
Fellow jury member Charles Landry added: ""This is a design that can act as the catalyst to regenerate the whole of Aberdeen's city centre with significant economic impacts for the entire city. Truly inspiring, it can put Aberdeen onto the global radar screen - very, very few designs can do this. In time it will be surely loved by locals and visitors alike. Without this type of transformational change, Aberdeen will struggle to meet the challenges it will inevitably face in the future."
Charles Renfro, partner at Diller Scofidio & Renfro, said: ""The steep competition drove us that much harder to do more research, to understand the site more thoroughly, to dig deeper into our creative reserve and our technical expertise to find a daring, thoughtful and beautiful solution.
"While the City Garden is at the heart of Aberdeen, that current heart has little pulse. We feel that we can make it throb and bring life and energy into the centre of town. By making the park greener, more accommodating to passive and active uses, more engaged at its edges, the gardens can become a magnet for this otherwise youthful and energetic city. The project reflects an integration of landscape design, museum design and design for the performing arts, the primary focuses of our practice."
The decision over whether to proceed with a full planning application will now be the subject of a local referendum.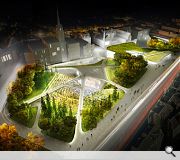 The layered plan has been likened to a spiders web
Back to January 2012