Keppie detail St Vincent Plaza plans
November 23 2011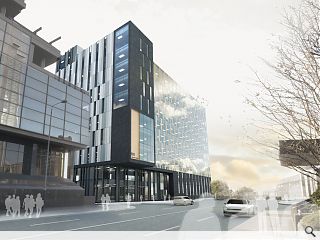 With speculative development all but having dried up during the past three years of drought, Urban Realm spoke to Keppie Design to find out a little bit more about
Saint Vincent Plaza
- a scheme which promises to breathe a little confidence into a moribund market.
Responding to queries as to the nature of an 'internet shopping hub' Keppie director Richard MacDonald said: "People today do a lot of shopping on the internet and they need space to collect groceries and purchases. Our intention is to build that facility into the building so that the users don't have to worry about having to be somewhere or be home to collect goods.
"There may be a chill room as well. We want to make sure that this building has additional attributes which make it more attractive to corporates."
Explaining the decision to revamp Archial's consented design MacDonald commented: "The previous scheme was quite a complex building to build and was probably a costly building to construct with its undercroft and various facets , angles and elements.
"We sought to create a building which was more along the lines of Aurora or 141 Bothwell Street with recognisable rectilinear floorplates that are more attractive to corporates. We needed to build efficiencies into the design and take the pressure off the site a little bit because it was quite pressured in terms of density.
"It really was an instruction from our client to consider an approach which was perhaps more austere and which would enable us to concentrate on a higher quality of envelope material. The economic situation is affecting all aspects of design and we need to design buildings extremely efficiently to make them viable."
A stand out element of the design is a cantilevered projection fronting onto Elmbank Street, a feature which is more than just a flight of fancy: "It's not a standard plot in the grid iron – it's exposed to the western edge, therefore we do have to have elements which relate to various views and various approaches", stressed MacDonald.
"The projection to the north is a direct reference point that recognises the desire route from Elmbank Street and the new pedestrian access down to William Street. We also cantilevered the front of the building to ensure that there was a subtle presence that would oversail the western element of the Santander building - so it's a double device."
Commenting on this new public space MacDonald enthused: "It's going to be a well-lit, 20m wide, pedestrian route using well designed, high quality materials and some form of landscaping - almost a modern version of the steps at Park Gardens in the west end. It's a functional route that will link William Street with the Hilton hotel and Anderston Station."
Developers Abstract confidently predict a Spring start on site although Elphinstone's crater opposite graphically illustrates the perilous route from planning to actual construction.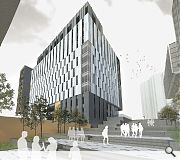 Pedestrian access to William Street will be carved through a former gym and car park
Back to November 2011