National Museum of Scotland refresh spotlighted
November 2 2011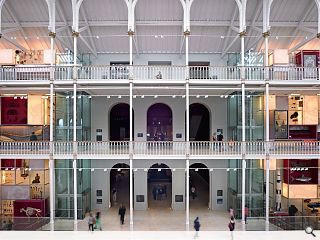 Prolific photographer Andrew Lee has returned from a visit to the
recently refreshed National Museum of Scotland
carrying more than just a few knick-knacks from the tourist shop – he's carried a bunch of photographs detailing every inch of the refurbished attraction under his arms.
From the revitalised Grand Hall which can breathe again thanks to the removal of an ill advised water feature to the incongruous sight of an historic propeller plane hanging precariously from the ceiling of one antechamber nothing has escaped Lee's lens.
The changes have been wrought by Gareth Hoskins Architects as part of the most comprehensive redevelopment of the Museum's complex of buildings and displays since it first opened in 1866.
This has seen the A listed Museum returned to its Victorian splendour whilst a series of external and internal spaces and alterations have been inserted into the sparling structure.
It also opens up connections to Benson & Forsyth's 1999 extension creating a far more coherent cultural hub than the previously disjointed relationship allowed.
Chris Coleman-Smith, a director at Gareth Hoskins Architects, told Urban Realm: "The new entrance hall has provided access for all, additional public space and accommodation for the facilities expected of a 21 century museum without compromising the galleries above which have been opened for the display of a largest number of objects from the National collection that has ever been exhibited before.
"We are particularly pleased that the new access and connections throughout the museum which are successfully encouraging movement and exploration of the galleries and exhibitions in a way that has not previously been possible. It's great to see the galleries and public spaces full of visitors and the response of the public, media and stakeholders has been overwhelmingly positive."
Back to November 2011