Carbuncle Awards 2011 shortlist unveiled
October 3 2011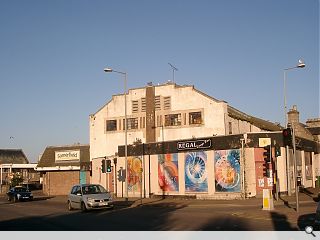 There may not be much construction activity taking place at the moment but that doesn't mean we've stopped throwing up dodgy buildings – far from it, as this year's shortlist of Carbuncle calamities attests. Several strong contenders are vying for the 'Plook on the Plinth' trophy for Scotland's most dismal town 2011; namely Linwood, Fort William and (surprisingly) Nairn.
The three towns are going head to head for the architectural equivalent of a Razzie whilst schemes such as a a giant fabrication yard in Invergordon, Trump's Menie estate and Fraserburgh Pool duke it out for our sister awards for worst building and worst planning decision.
Tom Burke, editor of LinwoodSucks.com, said of his hometown: "The best progress in Linwood in 20 years is seeing the local Chemist and Opticians being housed in temporary portacabins as the shopping centre was becoming too dangerous for them to continue doing business there."
Nairn meanwhile drew the ire of local resident Nairnbairn, who complained: "Described in Victorian times as 'the Brighton of the North', the cumulative effects of decades of poor planning, official indecision, developer greed and bad design have turned Nairn from an attractive seaside resort with interesting architecture and great facilities, into a depressing transit route for visitors with a town centre that is dying.
"The risk is that without some radical and dramatic action soon, this once thriving town will slide gradually into the anonymity of a dormitory suburb on the margins of an ever-expanding Inverness."
Last but not least Fort William was chosen by Alistair Scott of Urban Realm's editorial panel, who highlighted the fact that this Highland town is strangled by a concrete collar, severing a quaint High Street from the natural beauty beyond with an elongated mass of tarmac and concrete. Scott said: "If the A82 from Glasgow is just one lane either way why dual it through the town centre? An opportunity exists to give Fort William its waterfront back but thus far it is an opportunity missed."
Carbuncles spokesperson John Glenday said: "This year's crop of architectural disasters illustrate that, recession or not, our built environment remains under threat from callous development. By naming and shaming the worst we hope to act as a catalyst toward a better built environment."
The winners of our Play-Doh and chipboard gong will be unveiled in the December issue of Urban Realm.
The full shortlist is:
Plook on the Plinth award (worst town)
Nairn
Linwood
Fort William
Zit Building Award (worst new building)
Fraserburgh Pool
Timmer Market Clinic
Invergordon Fabrication Shed
Pock Mark Award (worst planning decision)
Fife Leisure park
Menie Estate
Triple Kirks, Aberdeen
For further information about the shortlisted towns please contact the carbuncles editor at carbuncles@urbanrealm.com, TEL 0141 559 6087 or log on to
www.urbanrealm.com/carbuncles
.
You can keep abreast of ongoing carbuncle news as it happens by following us on twitter http://twitter.com/urbanrealm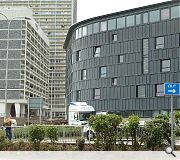 Richard Murphy's Timmer Market Clinic contributed to a dismal showing from Aberdeen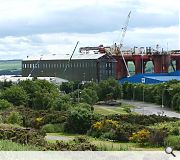 There's nothing jolly about this green giant
Back to October 2011