Maggie's Gartnavel officially opened
October 3 2011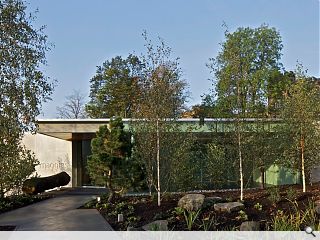 Maggie's eighth UK cancer care centre, Maggie's Gartnavel, has opened its doors to the public and as the first Office of Metropolitan Architecture designed project to be built in Britain – just pipping the headquarters of NM Rothschild and Sons in London to the title, Urban Realm decided to pop in for a visit.
The chief remit of Maggie's is to enhance care for those hit by cancer through provision of a warm and welcoming space, far removed from institutional hospital architecture -not qualities instantly associated with modern architecture but something which both architects in charge; OMA's Ellen van Loon and Charles Cutting (formerly of Keppie) have striven to effect.
Their approach softens the robust if austere use of unadorned concrete with extensive use of timber in both the ceiling spaces and giant screen doors which can be rolled into place as and when the function of the building demands it.
A simple materials palette of concrete and wood is used throughout to help foster a calming environment, enhanced by the prodigious use of cushions, throw and rugs. Contemporary artist Callum Innes adds to this comely feel with the gift of three oil paintings - similar to works displayed in the Pompidou and National Galleries of Scotland.
In plan form the centre takes the shape of a heptagon, a seven sided doughnut housing seven primary spaces; a kitchen, dining room, office, two counselling rooms, multi-purpose room and library. Rather than string these along a central hallway however, OMA have opted to do away with corridors (and conventional doors) altogether by meshing the plan of each room into the next and wrapping them around a central courtyard.
A full building review will be included in next week's edition of Urban realm magazine.
Photography by Philippe Ruault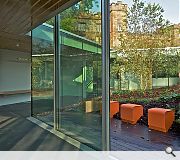 Full height glazing affords panoramic outlook across the west end skyline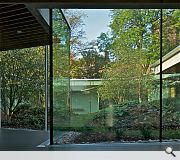 Maggie's melds with the surrounding landscape via sheltered central courtyard
Back to October 2011