Schoolboy to pull the plunger on three Edinburgh multis
September 20 2011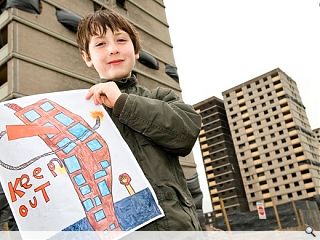 Lewis Reynolds, a nine your old schoolboy from Edinburgh has been chosen to hit the trigger on a triple blowdown in the city's
Sighthill district
after winning a poster competition.
Safedem launched the competition in three local schools in a bid to raise safety awareness amongst local children.
Reynolds said: "I am really pleased to have won the competition and can't wait to push the button to demolish the tower blocks. It's going to be great fun."
Councillor Norman Work, vice convener for housing at the City of Edinburgh Council, said: "The demolition marks a new era for the regeneration of west Edinburgh and is part of our wider strategy for the future of social housing in Edinburgh which will create new properties fit for the 21st Century."
Some 320 homes will be built on the cleared site as part of Edinburgh City Council's 21st Century Homes project.
The demolition is set to take place late in the morning of Sunday September 25 and will be broadcast live on the internet by
Stevenson College
.
Images taken by Edinburgh Evening News
.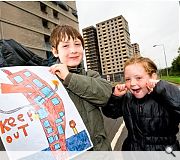 Reynolds poses with younger sister Niamh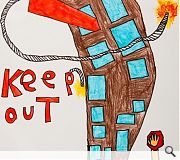 Reynolds winning entry illustrates the dangers of the demolition process
Back to September 2011