Rapid fit out transforms Dundee pub
September 15 2011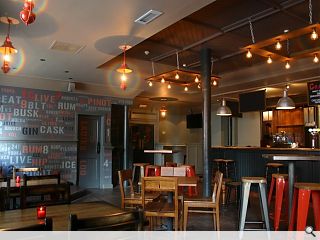 A dated Dundee pub furnished with kitsch nautical paraphernalia has been transformed by Nicoll Russell Studios into a hip new venue.
The quick turnaround project took just six weeks to take from initial concept to seeing punters back behind the bar.
Project architect Scott McIntyre told Urban Realm: "The client approached us with a limited timescale and budget to radically change an existing and dated Irish Bar. He wanted a modern and contemporary bar that was warm and welcoming like a traditional bar."
Utilising a range of period and reclaimed materials, light fittings and furniture to reduce costs the pub is centred on a feature reclaimed Edison light bulb with exposed filaments.
"We established a strong visual concept of an industrial packing warehouse that would give a radically different interior that would lend itself to the refurbished and reclaimed items", notes McIntyre.
"We have used packing case stencils on the wall to create a graphic wall of text," McIntyre added, noting: "we used a large tactile timber wall made from off cuts and distressed timber planks to define space and create a strong focal point as you entered but also offering a warm and traditional feel yet done in a contemporary manor."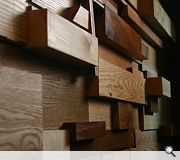 A tactile 'timber cut off wall' separates the bar area from restaurant and lounge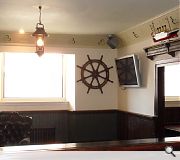 This tired Irish bar was transformed in just six weeks
Back to September 2011