Close Encounters of the Parkhead kind
September 16 2004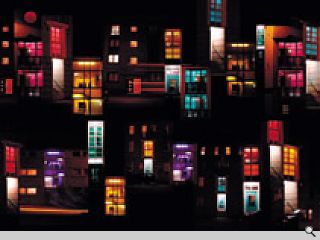 Chris Stewart Architects has recently completed a major lighting scheme to illuminate 31 tenement closes in Parkhead in the east end of Glasgow. In 2002, a community consultation was carried out by Parkhead Housing Association, which identified a widespread perception of danger in the area associated with poor quality lighting, particularly within closes.
The study inspired the idea of introducing new lighting that would express individuality between closes using colour, while improving security in real terms and lessening feelings of danger. With financial support from Communities Scotland, feature lighting was designed and installed in all the Association's closes. Along with the illumination of Parkhead Library and intended changeover to white light throughout Parkhead Cross, the installation is designed to improve community safety and sustainability and reduce crime.
The lighting will be most visible and effective during the darker winter months when activities within the closes will become an extension of the daily street routine, and the street will glow from light spilling out from inside.
Back to September 2004