Blackpool Tower reopens following £20m refurbishment
September 1 2011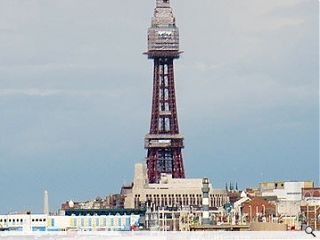 Blackpool towers lofty heights have been made available to tourists for the first time in 10 months following completion of a £20m restoration programme.
It has now been renamed the Blackpool Tower Eye and boasts a skywalk with floor to ceiling windows overlooking the sea, a dungeon attraction, revamped entrance and a "4D" cinema which includes sensory effects such as a vibrating floor, wind, rain and sunshine.
Portions of the towers steel legs have also been opened up for the first time to allow insertion of rooms showing historic footage of the local area.
The investment drive follows Blackpool Council's takeover of the ailing grade 1 listed landmark as part of a £250m regeneration drive for the town.
Tower manager Kate Shane said: "We used to have a walk of faith, which was a metre square of glass which looked down the legs of the tower. Now the entire west elevation is glass.
"It makes the back of your knees go, but on clear days you can see Cumbria and over to the Isle of Man."
Back to September 2011