High hopes for Bolton's 'big chimney'
August 18 2011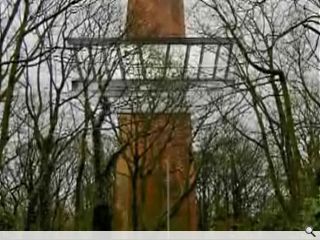 Plans have been unveiled for a skyscraping family home in the unlikely environs of Bolton have emerged with the novel idea of shoe horning a two storey property into an existing chimney stack.
This arrangement allows a 360 degree property to be inserted near the base of the 260ft stack, just above the tree line, to afford panoramic vistas across the local terrain.
Stairs and a lift inserted into the chimney shaft will grant access to the accommodation platform.
Architects Robin Rowles and Tony Lang believe their scheme will give Bolton a lift, telling the BBC: "The opportunity to do this might seem a bit hair brained to people – but the reality is there. If it's mad it's special as well."
The pair are confident that their plans stack up, adding: "It hit us with the wow factor immediately, the idea of creating something which would remain for a long time and put a modern building within an old one."
The listed chimney is one of the few remaining in the mill town, which was once carpeted in a forest of towers during the industrial revolution.
Subject to planning the unconventional structure could be built within 18 months.
Back to August 2011