Denny demolition work given go ahead
August 15 2011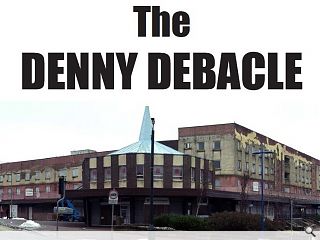 Demolition of an eyesore block which has plagued the town of Denny is to finally be demolished over the next 12 weeks – seven years after their demolition was first proposed.
Falkirk Council are demolishing the structure, one of three condemned blocks on the site, following community outrage at numerous delays amidst continued deterioration of the eyesores.
Two retail units will be left untouched by the process whilst plans for alternative accommodation are finalised.
Councillors have cited difficulties in relocating existing traders and the economic downturn for repeated delays in implementing a retail led regeneration of the site.
They are scheduled to be brought down during the first three months of 2012.
Opposition SNP Councillor John McNally said: "It's all very well knocking down a small part of Church Walk and seeking a pat on the back after a four-year delay.
"However, that is the easy part, what the people of Denny want to know is, when we will see construction rather than destruction."
Denny residents made
Carbuncle history
last year when they became the first community in the history of the awards scheme to request the Plook on the Plinth Trophy.
That stimulated an extensive design and consultation exercise to bring pressure to bear on authorities to expedite their stalled plans.
Back to August 2011