Edinburgh tackles metal thieves with "DNA" building signatures
August 11 2011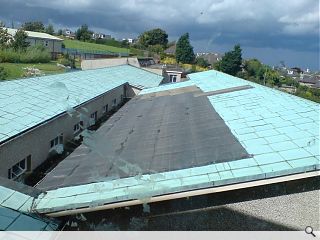 Metal laden buildings in Edinburgh are to be coated in a special "DNA" smart water to ascribe a unique forensic identity to high value targets in a bid to scupper gangs of metal thieves operating in the city.
Treated surfaces will show up on suspect's skin and clothing, providing an indisputable link between individual thieves and the scene of their crimes.
Exasperated officials at Edinburgh City Council will also install 'dummy' metals on council properties - materials with the same performance as metals but which hold no value in the illegal scrap metal market.
Recent months have witnessed an estimated £177k worth of damage wrought to schools and other properties, more than double the equivalent tally last year - as emboldened thieves ramp up their pilfering of copper and lead.
Councillor Phil Wheeler, Convenor of the Finance and Resources committee, said: "This is a serious problem and a major unwanted burden on the city's budget. A thief may only receive a few thousand pounds for the stolen lead but it costs a lot more to replace and, as can be seen in buildings such as Liberton High, if not detected immediately the damage can be severe.
"Such criminal activity diverts time and money away from our existing building maintenance and improvement programmes. Regrettably, it may be impossible to completely stop determined thieves but we are to set on making their lives more difficult.
"We also need the public's help and I would urge anyone who is suspicious about work taking place on a building to contact us to check. We would much rather receive a false alarm than have another theft take place".
McDonald Road Library, Lauriston Castle and the Ross bandstand have all been brazenly stripped of metals recently under cover of phony renovation work.
Back to August 2011