Grimshaw aquarium for Merseyside?
|
Send to friend
September 20 2004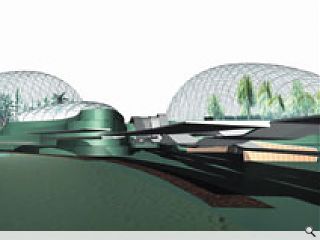 A Merseyside site is one of three front runners to become the home of the world\'s largest freshwater aquarium, a £250m scheme to be designed by Sir Nicholas Grimshaw for the National Institute for Research into Aquatic Habitats (NIRAH).
The former Wirral dockland is one of the sites being considered for the 100 acre scheme, which could become be one of the biggest tourist attractions in Europe. The project is expected to attract around 2 million visitors per year.
The initial design proposal, which shows similar qualities to The Eden Project, includes two massive 110 feet high transparent geodesic bio-domes . These would each hold three aquariums containing 1.5m gallons of water. Enclosures containing reptiles would be accessed by visitors through clear acrylic tunnels. A research centre will also form part of the complex.
The other main contenders to host the scheme are sites at a clay pit near Bedford, and at the Welsh end of the Severn Bridge. It is hoped that a final decision will be made before the end of the year with a view to completing the project by 2009.
Back to September 2004